The Well-Hung StrapLab is located deep in the northern backwoods of Saskatchewan. In this leathery, gluey, and sometimes slightly beery sanctuary, I make all kinds of stuff, but mostly lots of guitar straps.
I've been crafting them for nearly seven years now, experimenting with interesting materials, working to solve things like neck dive, strap length envy, backache, strap end disintegration and whatnot. I've taken on quite a few custom jobs for particular guitars, and replicas of some famous straps too.
In this thread you will mostly likely see pre-release works-in-progress, maybe the odd contest, and announcements when a new line is released. Probably pictures of all the cuts I get on my hands, and whatever else I feel like posting.
A little about me. I am here just like most of you, as a guitar player (not a very good one). I have been loving the guitar for about 35 years. A member of a lot of guitar-centric forums, I dig talking guitars and ogling everyone elses' amp and guitar porn. I have refinished several guitars, recovered/rehoused amps, and I too get loopy via solder fumes. So, I look at you guys and gals as my virtual brothers and sisters. I'm a husband, father of two amazing kids, and have a day job in advertising - I have worked in media, radio, television, newspapers for about 30 years. In my a small northern village on the edge of nowhere, my wife and I live in a church we have slowly renovated into a fairly comfortable home. It's real open concept - sometimes TOO open. ;-)
Why Make Guitar Straps?
Seven or eight years ago, I blew out my left rotator cuff, and it made playing guitar with a regular strap practically impossible. While in recovery/ physio, I found I was not alone in the need for a longer, more comfortable guitar strap, so I learned how to sew a little bit, and took it from there. At first I used old leather coats from thrift shops and made a ton of pretty cool straps. Eventually I sprung for an industrial machine to handle heavier leathers and started buying full hides, as well as alternative materials. It's maybe become a little bigger than a hobby, but still much smaller than a business. Somewhere in-between at this point. Who knows where it may go? To be able to feed my creative needs and help people out with great straps is really what keeps me so jazzed. I'm pleased that a local guitar shop also features my work.
What Kind of Guitar Strap?
There are so-called comfort straps out there... I simply wanted to make a distinctively good-looking more comfortable padded strap that doesn't look or feel weird, (I have made plenty strange ones too) which is tangibly different that what others offer. I personally make each and every guitar strap I send off. I do not import. Hundreds of guitars players all over North America, and even some in Britain, Japan, and Italy wear my work, professionally and/or for leisurely play. Many of my friends come back time and time again, which makes me super proud and appreciative. For anyone is interested in my work, there are a good number of reviews in my reverb store, as well as out there on a several forums, if you care to look. I hope to make some new friends here, your reviews will be welcome in this thread also.
I am not a factory, I make guitar straps via my own creative whims and when I get time. I normally do short runs of the same or similar pieces, maybe 5, maybe 10, depending on materials I find then release them into the wild all at once. Any series of strap I make available, no guarantee I will ever make that one again. If it sells out fast and gets sweet reviews, I very well may. I have developed several successful lines I repeat from time to time, but again I do not EVER want to become any kind of assembly line.
Enough blah-de-blah.
The Well-Hung "Amp'd" line was first conceived and hatched about eight months ago. I the first run I made four lines of straps, 6 in Marsha Salt 'n Pepper grill cloth, a dozen in Grey and Brown matrix grill cloth, and another set of six or seven in genuine fendry tweed material. These were all 3" wide, padded. I think I still have one in brown remaining.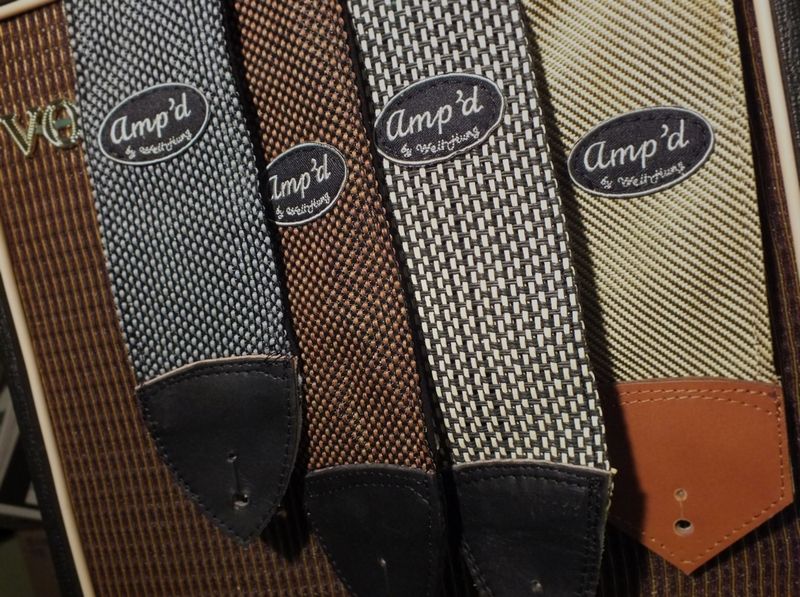 This weekend I am working on bringing a new line into this series, still trying to figure out what to name them without getting myself in trouble. These ones are 2.5" wide, still padded. Alcantara fabric is on the backside. This is THICK fake suede used in the airline and auto industry. It has fantastic grip, even better than real suede, and is super long-wearing, mildew and mold resistant - and for you hot, hot players out there, be comforted in the fact it is also fire resistant LOL! While I normally favour making 3" wide straps, these aren't bad at all. Strong and light, the silver bits in the grill cloth catch the light real nice, adding a bit of "glint" when a guy moves in hot lights.
If you look in the bottom corner you will also see some more salt 'n pepper that came in too. I will bring back more of those in maybe a month or two as well. For the Fendry ones? Probably in my Reverb store by next weekend so watch for 'em to pop up. There is only one with the brown end, all the rest are black. There are seven total.
Want to know what it feels like to be Well-Hung via a different kind of guitar strap? I welcome you to have a little look at my shop. There is a link to it in my signature below.