Discussion Starter
·
#1
·
Stupid Deal of the Day | Musician's Friend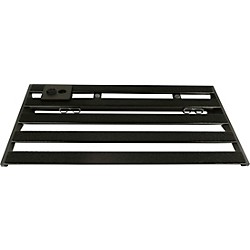 Ultimate Support Genesis Series GSP-500-BK Pedalboard
The Ultimate Support GSP-500 Genesis Series pedalboard was designed by guitarists who wanted a one-stop solution for a number of common problems.
The engineers used a traditional, slat-oriented system for mounting the pedals. But the added features are where this pedalboard truly stands above the rest.
Ultimate Support designed a universal power-supply mounting system that uses strong, dependable clamps to fit a wide variety of power supplies underneath the board. Never take a drill to your pedalboard again.
Because all those jumper cables can become an unruly mess pretty quickly, the company went a step further and integrated cable management clips in its specially angled design, which prevents cord clutter and keeps your effects rig looking sharp.
And, for those who sing lead and background vocals, Ultimate Support has incorporated a specially designed (removable) mount for its MC-05 shaft designs (sold separately, see SKU K46519), allowing you to easily mount a microphone stand, and shrink the footprint of your on stage station for maximized efficiency.
With all of these features, the slick design of the side panels (available in multiple colors) is just icing on the cake. Finally, the included Hybrid Series 2.0 case, specially designed for the GS-500, gives you the best quality storage and transportation option you'll find included as part of a pedalboard purchase.
Once you've solved all the problems the GSP-500 Genesis Series Pedalboard solves, you can get back to obsessing over which distortion pedals you absolutely have to have for your next performance, and stop worrying about how many accessories you still need to get the pedalboard itself up and running.
less
WAS: $199.99
SAVINGS: $80.00
$119.99 USD