Discussion Starter
·
#1
·
Well, I finally managed to spend a bit of time on my two prizes: A 68' Princeton and a 79' Princeton Reverb. The former I got about 4 months ago, the latter about 6 weeks ago. These are, far and away, the sweetest amps I have ever played through. In the past few weeks I have practiced each on it's own with my band and once with both in stereo. Done up the right way, 12 watts is plenty of power and talk about a nice light package to haul around.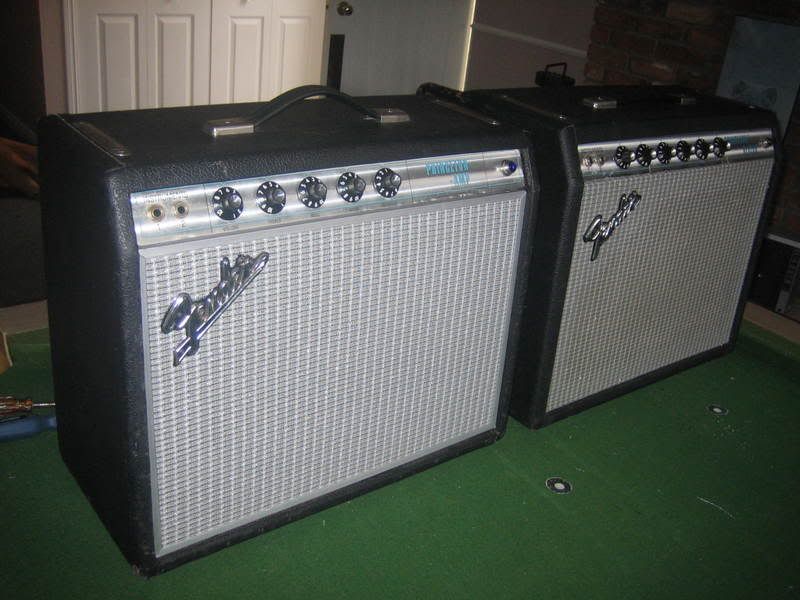 On the left is the 68' non-reverb. Electronics are all original. Even though she's quiet as a mouse, there are plans to do the caps. I made a plywood baffle that takes a 12" speaker - currently a G12H30 (Hellatone). This is the first pic taken with new grillcloth and an imitation "drip-edge" (made from a flooring spacer). Clean up to nine with just a bit of hair past that
On the right is the 79' Reverb. Physically stock. Had a full cap-job about 3 years ago. Also has the Stokes mod which increases the headroom a bit. Can't remove the baffle and won't alter it so I put a 10" Rajin Cajun in her. I can't begin to describe how sweet she sounds and how loud she goes. Starts to break up at four but is hanging with the band at this level with room to spare.
Just thought I'd share my joy with you all :banana: