Discussion Starter
·
#1
·
hey guys...
well here is the fourth derby report of this years season....
and proof that fishing can pay more than most gigs....for some but not for us...lol
Glenn and I left and headed up to Chelmsford at 6am....and hit snow around Orillia...and it snowed all the way up to Sudbury...
the heavy part was Parry Sound area for sure..
about 1/2 way to Parry Sound we were joined on the hwy by Ratherbe and Wannabe and formed a convoy from there to the first stop which was a Tim Hortons along hwy 69....just outside of Parry Sound
gassed up my beast for a meager 1.02 a litre and hit the Hwy again bound for Chemmy...
we arrived in Chemmy about 10 am and headed straight to the derby headquarters
at Vermillion Lake...and registered ....
I knew right then the days jackpot would be a good one since I was number 413
the final total was 467 people registered....and a jackpot of 23,350. dollars
here is a shot of the enterance and the Chelmsford fish and games derby sign...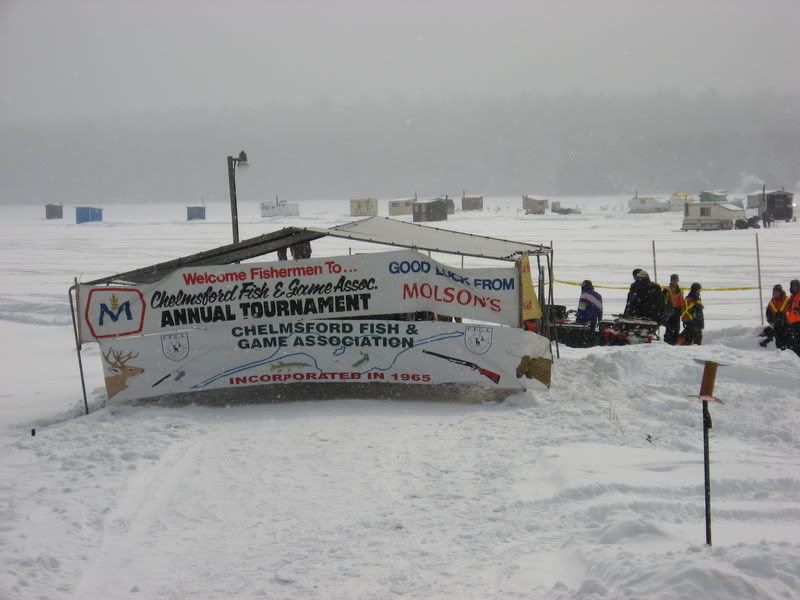 we headed it out after being inspected at the gates and made our way to one of the derby entery points....and awaited our turn for hole selection...
Both Glenn and I managed to get what we deemed as good positions in the derby area...and proceeded to set up for our 3 hour fish....
here a shot of the crowds....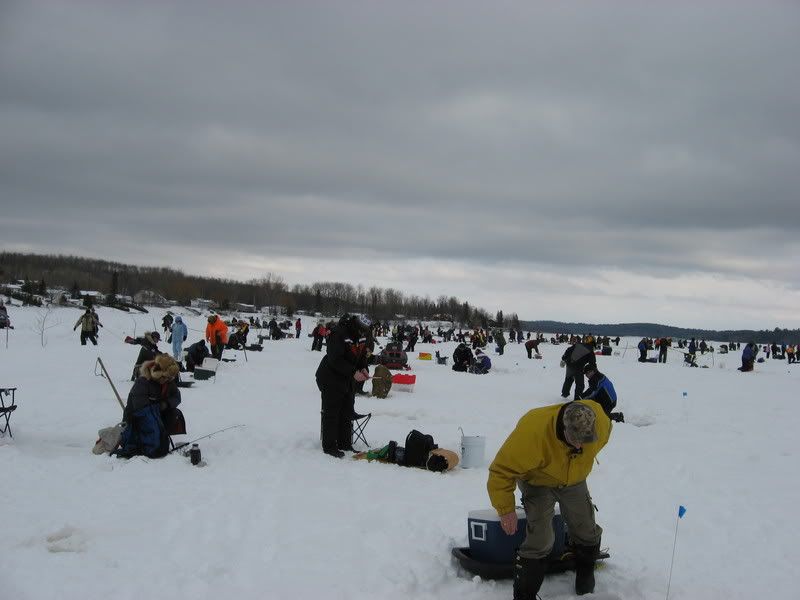 I Kinda figured on it being a hard fish for this day....since a storm had passed only about 12 hours prior to the derby....and I figured it would shut down most species....for the day....and it did.....
Glenn and I threw everything we had at them including worms and maggots
assortment of jigs and live bait rigs...I had 4 rods working different line set ups and line weights througout the day....but to no avail.....
Once again not even a sniff or a nibble....
only 6 fish were caught for the day....and for those lucky people there would be a
first pick from the prize table.....
random prizes were handed out thru the entire derby....and when it was all over
there was to be an additional 25 prizes awarded for the 25 best fish caught...
most of these prizes went in a draw after those who had caught something had already claimed....
and a shot of the early bird prize ...the Argo....
man it was nice....
a shot of the big cheque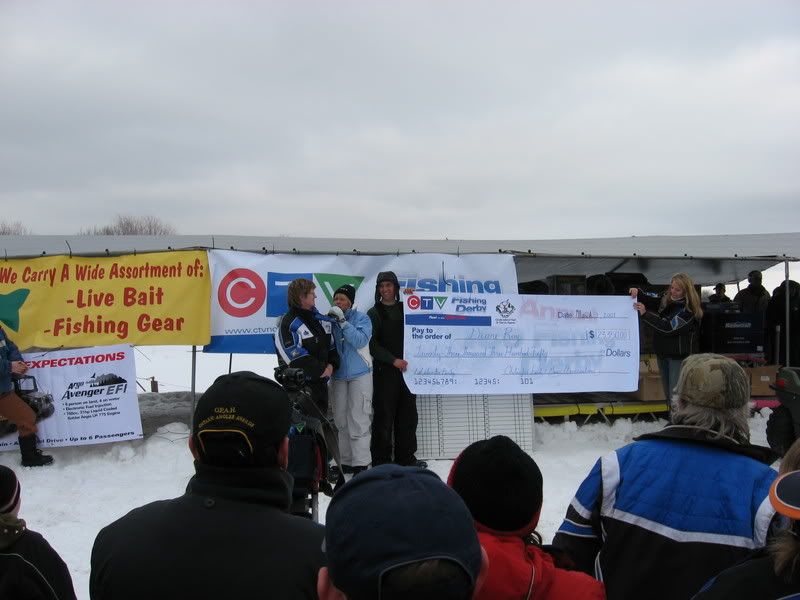 we also had the pleasure of meeting Pike Chaser for the first time as well....
all in all a fun day.....and an extremely well run derby....by Redfisher and Joel and the entire Chelmsford Crew....plus a good MC from Mctv....
Looking forward to the next time we get up to Chelmsford
from there Glenn and I said our goodbyes and proceeded to drive thru the blinding snow again in the dark this time from Sudbury to Oriilia....oh what fun.....lol
this is what I do when not playing guitar....
Auger