Discussion Starter
•
#1
•
Hey folks,
Just finished my JCM800 scratch build on the weekend. Just waiting for the cabinet from Trinity (JTM45 style). Here's a couple pics.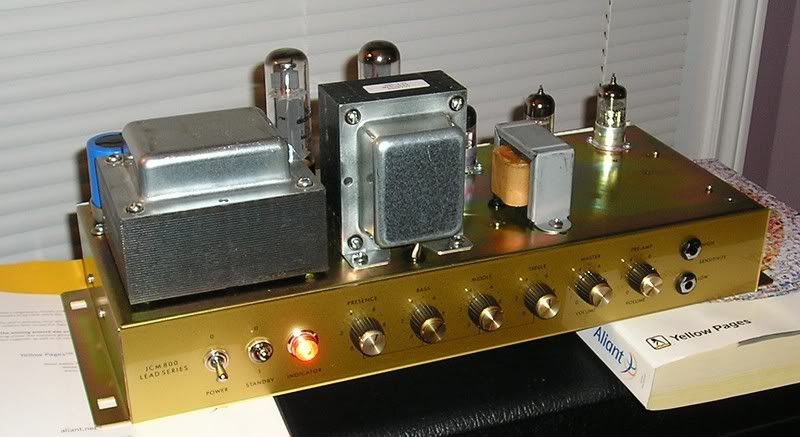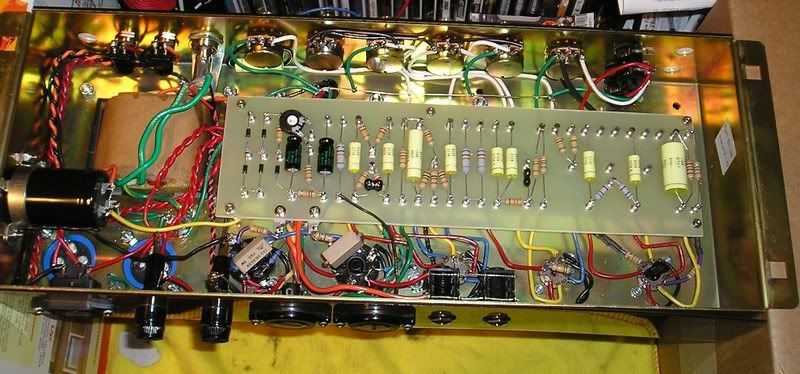 Here's the details...
- Chassis, naked board & faceplates from Nik Azam at Ceriatone
- JTM45 style head cabinet on order from Stephen Cohrs at Trinity Amps.
- Sozo coupling caps
- Alpha pots
- Carling switches
- Cliff jacks
- F&T & JJ can caps
- Sprague Atom filter caps
- primarily 1-watt carbon film resistors
- Heyboer Drake clone transformers
Mods from stock JCM800:
- Cathode resistor on V1A reduced to 5.6k (increased gain on high input)
- all three "bright/high treble" circuits removed (fatter/warmer tone at low volume)
- plexi-style input jack wiring (directly to V1 with 68k resistors)
- increased gain to 3rd/4th gain stages (input resistor to V2a lowered to 270k from 470k)
- old Marshall style presence wiring (8-ohm tap, 27k resistor, 5k pot, .1uf cap from wiper to leg, to ground)
- Fender-style jewel lamp
I basically used Joe Popp's modified version of Nik Azam's Ceriatone layout with the aforementioned mods. Thanks to both Joe & Nik for the inspiration on this one!
I haven't decided on the pre-amp tubes yet. Have an old Mesa branded Chinese 12AX7 in V1 and Sovtek 12AX7WA's in V2/3.
I have tried both JJ KT-77's and EH EL-34's in the power side, both biased to just over 60%.
With the KT-77's there's a bit more bottom end, later breakup, and an overall slightly warmer tone. Through the lo input this gives a warm, punchy clean tone that just starts to break up toward the top end of the master volume. It's killer for jazzy stuff and is actually a really sweet clean. Through the high input it's a thick tight overdrive, but maybe just a hair too bottom-heavy.
With the EL-34's the breakup is quite a bit earlier. The tone through the hi input is more middy/crunchy - 80's hard rock heaven (exactly what I built this amp for). The lo input gives a more laid back tone, but again breaks up much earlier giving an AC/DC-ish crunch when wound out.
I'm really pleased with the result. I hadn't expected it to sound this killer! :rockon2:
Kirb