Imagine a guy who is not built for running the 100 metre dash. He is in very good shape, works out, has strong muscular legs, but can only run it in 18 seconds at best. He is 5'7", thick bodied and his legs are short. (Not me. it's for an analogy) Olympians can do it in just under 10 seconds. Imagine now that he has good form in high jump, but he can never get close enough to qualify for high school regionals.
I can best describe my fret board hand as small with short fingers, a very short thumb and a dwarf pinky. Or a <Austrian Accent On> A Weak puny little girly man hand <Austrian Accent Off> .
I don't have the speed to shred and at my age (retired), I doubt I ever will. In high school I failed typing because I just couldn't type fast without making a shitload of mistakes. (It was a requirement that year – still the most useful course I took in high school). At 20-25 wpm, at the most, I was fine. Not near good enough for typist job, but more than good enough that I never had to have the secretary at work do it for me. Mind you, I could run the 100 metre in under 18 seconds, but that is not the point.
Trying to finger
some
chords is just impossible. My pinky just can reach that note or reach that far without muting the string I don't want to mute (just can't jump that high without knocking over the bar). An example just how that limitation Example an Eb+7 or E aug 7 (not that I would ever play that chord):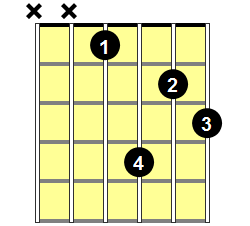 So I just work on the music my hand and fingers can handle. At least the arthritis is in my knees and and not in my hands. But the sleep apnea and insomnia does affect my attention span and slows the learning new things down. And on and on and on …...