I was a bit surprised to see a 2016 guitar still around for sale. Most retailers sell the old stock before putting out the new.
But maybe it's not so bad a price for those that like this model.
Stupid Deal of the Day | Musician's Friend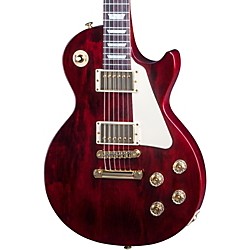 Gibson 2016 Les Paul Studio HP with Gold Hardware Electric Guitar Wine Red
The Les Paul Studio 2016 HP is the supercharged counterpart of the traditional Les Paul Studio, and introduces an advanced set of premium, high-performance features to the format, including a new and exclusive fast-access heel, developed specifically for the Gibson USA High Performance lineup, to allow unprecedented access to the high notes - which, combined with our new soloist neck width, provides the fastest and most comfortable Les Paul Studio neck you've ever played. Titanium metal for the saddles and the adjustable zero-fret nut delivers a bright, crisp tone, while being virtually indestructible and ensuring total, personalized control over the action. A pair of 490R and 498T humbuckers delivers true Gibson Les Paul tones, while genuine mother of pearl inlays add to the guitar's premium level of quality.
Key performance features
Switch: Solid, positive feel with quiet operation
Bridge: Titanium saddles
Carrying case: High Performance Aluminum Hard Shell Case
Neck width: Soloist neck width
Inlays: Mother of pearl inlays
Pickups: 490R and 498T humbuckers
Jack: Gold plated multi contact jack
Neck heel: Fast-access heel
Nut: Titanium adjustable zero-fret nut
less
WAS: $1,849.00
SAVINGS: $500.00
$1,349.00 USD