Currently Available as of July 7, 2010
-Square Wave Generator - see post #38
-Bender, see post #39 and another one post 40
-Hairy Eyeball (Fuzzrite) see posts #30 & #31
-Modified 'One Knob Fuzz' see post #35
-Badger - Rat with LM308 & 3 way clipping switch see post 42
keto mfg. est. 2010 - Custom Fuzz & Distortion Pedals
As some of you will know, I've been building my own pedals for a few months now. I enjoy this hobby, and thought I might offer up a completely custom shop approach to a few circuits I like.
All circuits are hand built on perf board.
High quality components are used, like Switchcraft open or Neutrik enclosed jacks.
I use 24 guage wire, which is heavier than typical. Reduces breakage.
Finishes are fully customizable for colour. Typically 6-8 coats of paint. **UPDATE MAY 24 2010 - I have purchased a quantity of pre-painted/powder coated boxes from Pedal Parts Plus and will primarily be using those for the time being.
I finish them with a very thick clearcoat, several coats and then baked. Because of the thickness of the clearcoat, sometimes there will be some areas (the sides, NOT the top) with runs - it doesn't detract from the overall look in my opinion! It's just the clear, not the paint itself. See below for illustration.
All are true bypass
Every finished pedal will be essentially a 1-off. There may be thematic carry overs, but I don't expect any 2 pedals will be identical.
There are a couple of categories of stuff I will build, more simple circuits (1-2 knobs, 1-2 transistors) and more complex (tone knobs, multiple circuits, toggle switches for tonal changes, etc.) in 2 price points. All are clones of classic fuzzes and/or distortions. All transistors will be and many other components can be socketed - this allows you to play with gain and tonal changes.
BELOW IS A PARTIAL LIST. IF YOU DON'T SEE SOMETHING YOU WANT, PLEASE SEND ME A PM!
$85 + SHIPPING
INTRODUCTORY OFFER UNTIL JUNE 30, 2010: $85 SHIPPED
Jordan Bosstone - Mostly considered a fuzz, though really more of an overdrive than a fuzz, kind of like a Rat is sometimes called a fuzz (it sounds nothing like a Rat). 2 knobs, volume and gain/fuzz. High gain (but not in a tight, modern/metal way), thick (very thick), no loss of bottom end. Does get more fuzzy with the gain up, though can be overly bright with some amps when cranked. Can be tuned for bass via socketed capacitors. This is absolutely my personal favourite pedal! Sound clip in post #6
Fuzzrite/Fuzzbrite - sharp, cutting, square wave. 2 knobs, volume and fuzz. Top end heavy, definite loss of bottom end when engaged - perfect for leads. Or, put larger capacitors in output and have a hairy more rounded fuzz!
Octave Fuzz
Working on a Fuzz Face variant, TBA.
$100 + SHIPPING
INTRODUCTORY OFFER UNTIL JUNE 30, 2010 $100 SHIPPED
Silicon Tonebender variant - higher gain than your typical Tonebender. Has bias trimmer, no tone knob. Toggle switch for fat. youtube sample in post #24
Big Muff, op-amp variant. Can also do transistor variants (Ram's Head, Triangle, Foxey Lady, etc.) but so can a bazillion other builders. Not many offer the op-amp variety.
$125 + SHIPPING
INTRODUCTORY OFFER UNTIL JUNE 30, 2010 $120 SHIPPED
Roland Bee-Baa - has both a fuzz and a high volume clean booster on board (via separate stomp switch), in an either/or (not both simultaneously) configuration. Bigger box. Fuzz is very high gain, very square wave. Has toggle for mid-scoop of the fuzz. Has vol, sustain (fuzz), tone, booster volume knobs plus the aforementioned scoop switch and dual stomp switches. youtube sample in post #26
Rat variant, with 3 way clipping (diodes sym/asym + LED's) and 4th knob for Reutz mod.
Guv'nor - Marshall in a box, 3 way clipping switch, volume + treble + middle + bass + gain knobs. Sound clip in post 7 (yes, I will redo it one of these days).
Here are some options that will be offered with every build.
input/output jacks placement and type (open or closed)
DC adapter jack yes or no
DC adapter jack placement
battery snap - yes or no (can have both, DC adapter + battery snap) IF NOT SPECIFIED, I WILL NOT PUT IN A BATTERY SNAP
LED yes or no - with some of these (Bosstone, Fuzzrite) there will never be a question *grin*.
LED colour. I usually have red, blue, yellow & orange on hand and prefer orange for most builds. Other colours available.
knob type - typically have at least 5-6 different types on hand
colour of pedal enclosure - or, you can leave that to me
naming - if you want to call it something else, by all means!
Scheme, theme, whatever. Want something custom on the box? That's the whole idea! Or, trust my artistic judgement
Customer satisfaction will be important. I won't be asking for payment until completion, and your inspection of pictures of the finished build. When you order, you'll have my personal email and phone number. And I'll give warranty after the fact. This isn't about getting rich (look at the prices!), it's about carrying on a hobby I enjoy. I pledge not to take on more than I can handle, so I won't be doing more than 2-3 a month. I estimate 3-4 weeks typical from order to completion and shipping. That's NOT due to a waiting list, it's due to the custom paint & finishing of the enclosure.
youtube demos slowly being added, more coming shortly
Here are a few completed builds....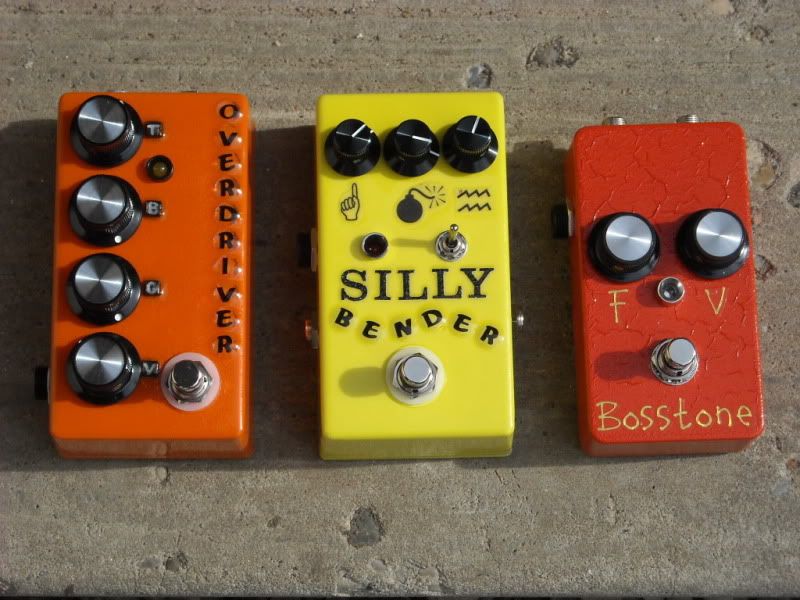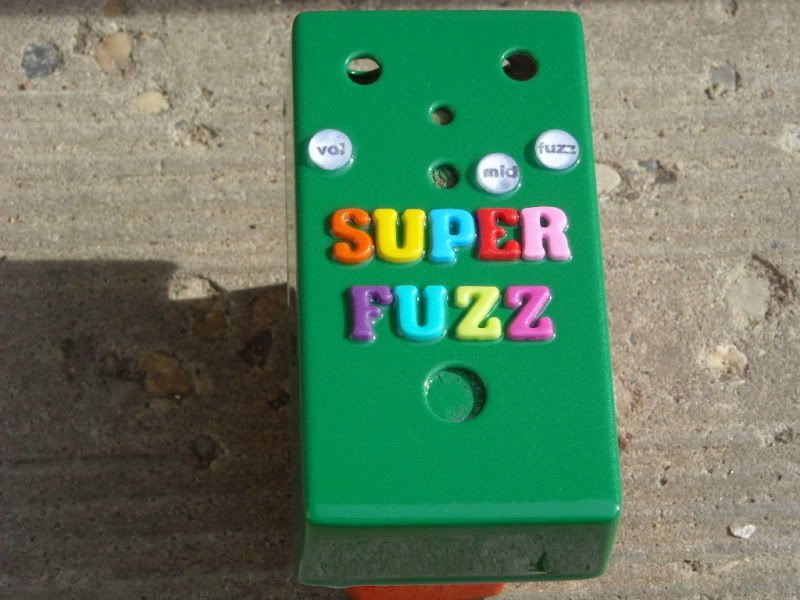 Here's a fuzzy cam (hey, nobody ever accused me of being a pro photog) shot of what I mean by some clearcoat possibly running. Again, to me it doesn't detract from the overall look....the thick clearcoat I use isn't perfectly dead flat in most spots anyways, having a slight waviness to it.