Looks like it might be interesting.
I'm not sure why that pic was chosen for the cover...it certainly doesn't seem very flattering (IMO)...especially given all of the "iconic" pics of him on album covers.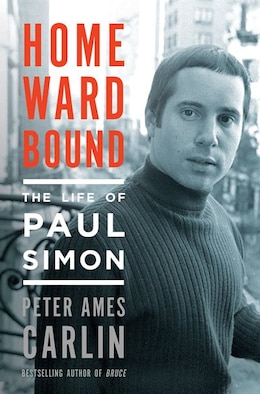 $32.00 online (hardcover)
From the !ndigo site:

A revelatory account of the life of beloved American music icon, Paul Simon, by the bestselling rock biographer Peter Ames Carlin

To have been alive during the last sixty years is to have lived with the music of Paul Simon. The boy from Queens scored his first hit record in 1957, just months after Elvis Presley ignited the rock era. As the songwriting half of Simon & Garfunkel, his work helped define the youth movement of the '60s. On his own in the '70s, Simon made radio-dominating hits. He kicked off the '80s by reuniting with Garfunkel to perform for half a million New Yorkers in Central Park. Five years later, Simon's album "Graceland" sold millions and spurred an international political controversy. And it doesn't stop there.

The grandchild of Jewish emigrants from Galicia in the Austro-Hungarian empire, the 75-year-old singer-songwriter has not only sold more than 100 million records, won 15 Grammy awards and been installed into the Rock 'n' Roll Hall of Fame twice, but has also animated the meaning-and flexibility-of personal and cultural identity in a rapidly shrinking world.

Simon has also lived one of the most vibrant lives of modern times; a story replete with tales of Carrie Fisher, Leonard Bernstein, Bob Dylan, Woody Allen, Shelley Duvall, Nelson Mandela, drugs, depression, marriage, divorce, and more. A life story with the scope and power of an epic novel, Carlin's Homeward Bound is the first major biography of one of the most influential popular artists in American history.

TABLE OF CONTENTS

1. Real and Assumed 1
2. The Tailor 6
3. Our Song 17
4. Nowhere to Go but Up! 35
5. Two Teenagers 49
6. The Freedom Criers 62
7. What Are You Searching for, Carlos Dominguez 74
8. The Voice of the Now 88
9. He Was My Brother 102
10. It Means Nothing to Us 120
11. Some Dream of What I Might Be 140
12. Bookends 155
13. So Long Already, Artie 169
14. I'd Rather Be 188
15. That's It, That's That Groove 205
16. Through No Fault of My Own 223
17. Swallowed by a Song 241
18. What Did You Expect? 252
19. These Are the Roots of Rhythm 271
20. I've Got Nothing to Apologize For 291
21. The Whole World Whispering 311
22. Phantom Figures in the Dust 327
23. The Teacher 350
24. See What's Become of Me 368

Notes 377
Acknowledgments 395
Illustration Credits 399
Index 401

EDITORIAL REVIEWS

"Definitive... Simon's personal life, drug problems and marriages are intimately detailed, and figures from Bob Dylan to Woody Allen make cameos.Carlin has gone deeper than anyone yet." -Rolling Stone

"Respectful, insightful - and so very damning." -New York Daily News

"Touching.pure pleasure" -People, book of the week

"You can almost hear the melodic anthems Simon created through Carlin's exhaustively researched, deeply-felt prose." -Harper's Bazaar

"[T]horoughly researched...Homeward Bound reveals many sides of a complicated, ambitious, insecure figure."-New York Times Book Review

"The alchemy of pop stardom is a curious process, and few stories are as unlikely and as absorbing as that of the Jewish kid from Queens turned folk superstar. Fresh off 2012's "Bruce," his take on another quintessentially American subject, Carlin provides a brisk and engaging overview of Simon's career and protean musical output.a good story, and Carlin tells it well.crisp and well-paced.lucid and evocative.Carlin is admirably even-handed when faced with Simon's sometimes acrid personality."-The Washington Post

"Carlin burrows into Simon's legacy with a journalistic sense of duty. Drawing on vast research and original interviews...Carlin did his homework.He traces Simon's Jewish lineage back to Austria, where his grandfather, also named Paul, was born and raised before emigrating to the United States and becoming a successful tailor. He examines Simon's deep-seated insecurities, including his lifelong hang-up about his height and a contentious relationship with his father....Carlin is also fearless in his depictions of Simon's less savory qualities, especially accusations that he has a habit of ripping off ideas from other artists.[his] prose is notably scintillating."-The Boston Globe

"You hold in your hands a book just as epic and fine as "Sound of Silence" or "American Tune." Peter Carlin has gotten it all down, the partnerships, the comedy, the heartbreak and triumph of Paul Simon, who might well be the one who lasts. And it's not just the words-it's the music, that is, the sharp clarity of Carlin's writing that keeps the pages flying. The great gift of Homeward Bound is to let you hear Paul Simon's great catalog of tunes all over again, as if for the first time."
-Rich Cohen, New York Times bestselling author of The Sun & The Moon & The Rolling Stones

"The world of pop music has paraded its own mythologies for decades, insisting that art and business can be separated, that authenticity is the condition of the greats, that politics is as easy as a statement made from a stage. But the truths are different: art and commerce are regularly in unflattering bedroom situations, the greats spend much of their time adjusting masks, and politics only begins with a protest song. The case of Paul Simon, presented here by Peter Ames Carlin with an admirably even tone and unabashed skill, pushes these truths out front. Homeward Bound is a book you should read if the ruckus you hear behind those soaring melodies is of interest, as it should be."
-Warren Zanes, New York Times bestselling author of Petty

"While fans wait for Simon's own story of his life, this insightful, well-researched work from Carlin (who penned an acclaimed Springsteen bio before Bruce did) will certainly do." -New York Post

"First Major Paul Simon Biography Is a Real Whopper: This compelling period in Simon's career is expertly detailed - along with the rest of his life, musical and otherwise - in Peter Ames Carlin's exceedingly well-written book. And while Paul Simon has been the subject of several, more slender bios, this is incredibly the first actual detailed tome, with the author conducting in-depth research and more than 100 original interviews." -Houston Press

"Carlin achieves a satisfying balance across every decade of Simon's life.Carlin also diagrams his subject's personality in a way that fully informs and illuminates the music. Be advised: You'll want to have Simon's recordings on hand as you read Carlin's engrossing account of how they got made-and with the road map he provides, you're bound to hear something you never noticed before."
-Portland Mercury

"[A] nuanced, fascinating portrait.Carlin expertly tracks Simon's professional career, from the earliest days with Garfunkel when they were finding their footing as performers, through the climax of their career as a band with their 1970 album 'Bridge Over Troubled Water,' to Simon's solo artistic peak with the 1986 release of 'Graceland.' Simon's music career defies easy categorization-much as his relationship with Garfunkel does-but in Carlin's portrayal, his legacy as an innovative songwriter and musician is undeniable. An absorbing and layered study of 'one of the most influential voices in Western popular culture.'" -Kirkus Reviews

"Throughout this highly readable biography Carlin depicts an artist who is tough, smart, uncompromising, audacious, and incredibly talented." -Booklist


"In Homeward Bound, biographer Peter Ames Carlin (who also published a best-selling 2012 bio of Bruce Springsteen) brings the shrewd eye of a reporter, as well as the enthusiasm of a lifelong fan, to his scrutiny of Simon...meticulously reported, often startlingly perceptive portrait...In this tough but compassionate examination of his life, his fans will come to understand Paul Simon a little better."-Dallas Morning News

"The best Bruce Springsteen biographer yet takes on another iconoclastic singer-songwriter." -Oakland Press

"[Homeward Bound] offers a sweeping panorama of the singer-songwriter's life story...favoring a psychological approach to understanding its subject's lifelong conflicts, ... [it] provide
a picture of a man struggling with the binary tensions of post-immigrant, postwar Jewish life in America."
-Forward

"Carlin excels at telling a rattling good story, and his book is full of plenty of them. After reading Homeward Bound, you might dislike Simon or you might love him even more than you've ever loved him. No matter, you'll certainly discover the forces which drive him and his songwriting, and you'll gain a new appreciation for his songwriting genius. Even-handed and absorbing, Carlin's Homeward Bound introduces us to a musician whose heart is restless until it rests in a song." -No Depression