Discussion Starter
·
#1
·
I recently picked up a used but newer Ampeg 8x10 cabinet because my 4x10 wasn't cutting it for me anymore. The cab was pretty beat up with majority of the tolex ripped off. It gave me an idea to completely refinish the cab in a stain and clear coat. ANYWAYS I wanted to share my process of how I refinished it in case anyone else ever wanted a rough guideline for doing a similar project. Luckily this particular cab was made with birch plywood. Ampeg also uses MDF and particle ply on other cabs and if mine was anything other than birch I wouldn't have even bothered.
Tools used:
-heat gun
-3" putty scrapper
-adhesive stripper
-paint thinner/mineral spirits
-100, 180, 240, 320 grit sand paper
-6" orbital sander
-Tack cloth
-oil based stain
-oil based polyurethane
Since most of the tolex was gone it made my job a bit easier. I used a heat gun to warm up sections of the tolex to pull it off (you could probably get away with a hair dryer but it may take a bit longer to heat up the glue and tolex).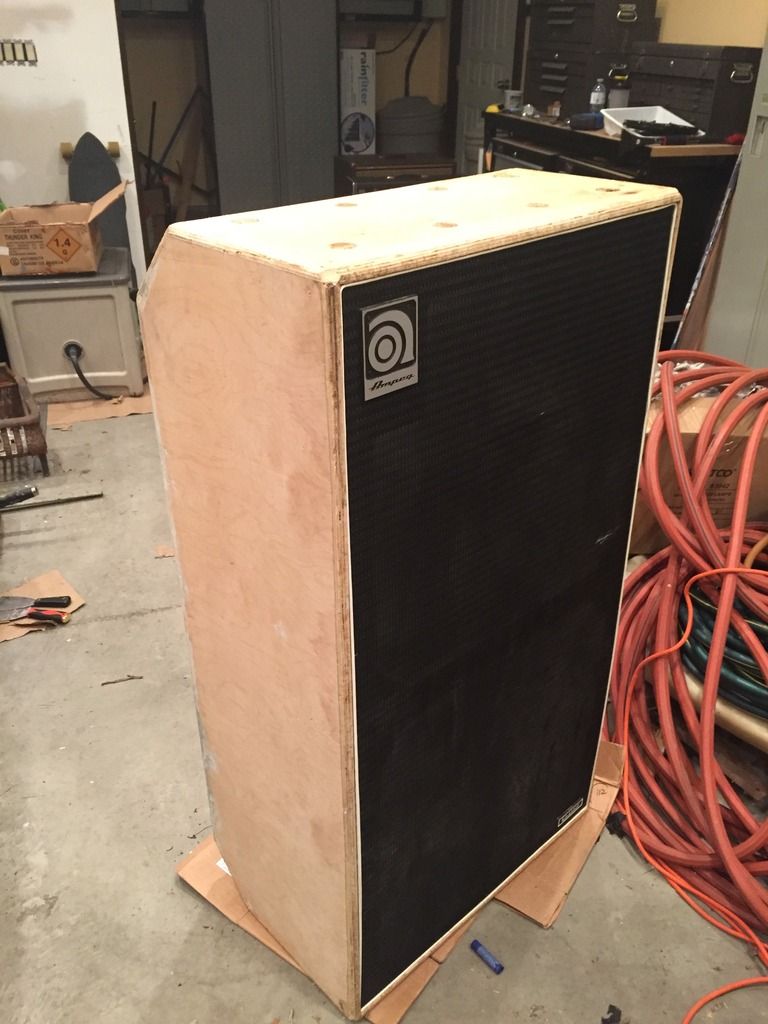 Once I removed the tolex there was a considerable amount of glue remaining on the cab. I tried using the heat gun to get the glue hot and use a scrapper to take it off. This was painstaking and I wouldn't even bother trying because this didn't even get all the glue off. You want to get as much of the glue off at this step as possible because leaving it on the wood when you go to sand will gum up your abrasive paper. Ampeg uses strong adhesive and using an adhesive stripper I got from home depot worked very well. Apply the adhesive stripper on the wood liberally and let it sit for 15 mins. Use your scrapper to peel off the glue by following the wood grain. Don't worry about scratching the wood because you'll be sanding it down later. The glue came off very easy and left virtually none behind.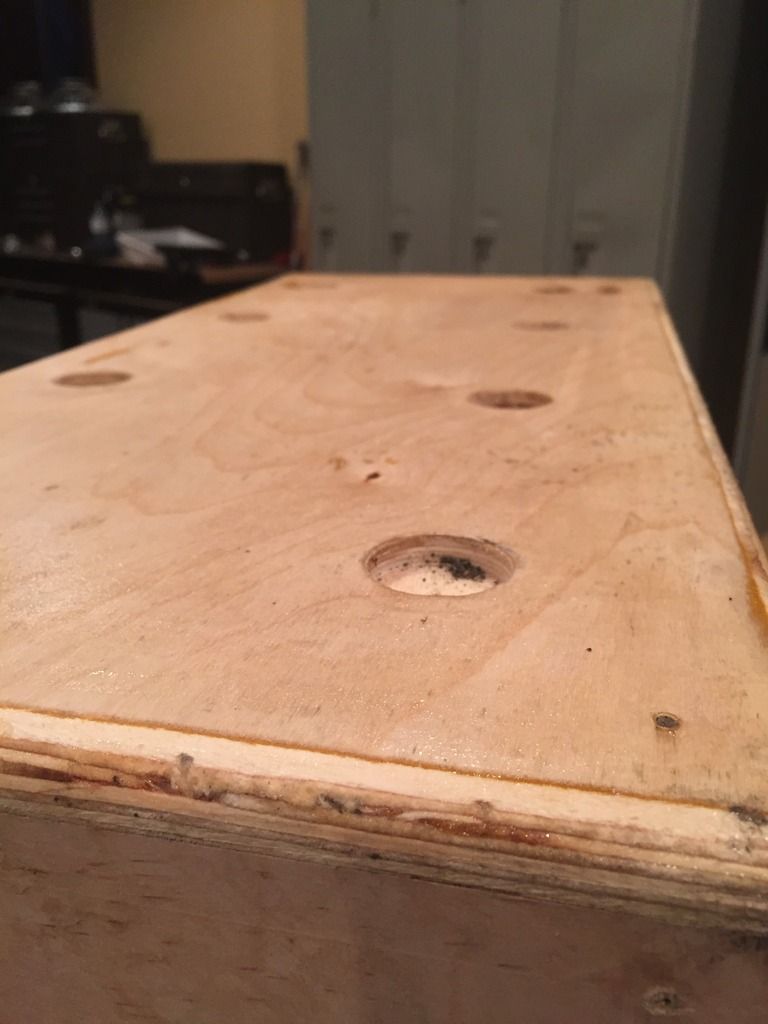 Surface of wood after removing the glue with an adhesive stripper.
I used an orbital sander and started at 100 grit to remove any remaining glue. I then moved up to 180, and went to 240 for the final grit before staining. I DID NOT use any pre wood conditioner, I didnt care about having a blotchy stain. I applied stain with a brush and let it sit on the wood for roughly 5 mins before wiping off with a cloth. One coat of stain was applied and that gave me a nice rich red.
I applied the first coat of poly wayyyy too thick. You can kind of see on the side of the cab how streaky and inconsistent it is in the light. I tried to even this out by sanding in between coats and paying more attention to the thicker areas.
240 grits was used at this point.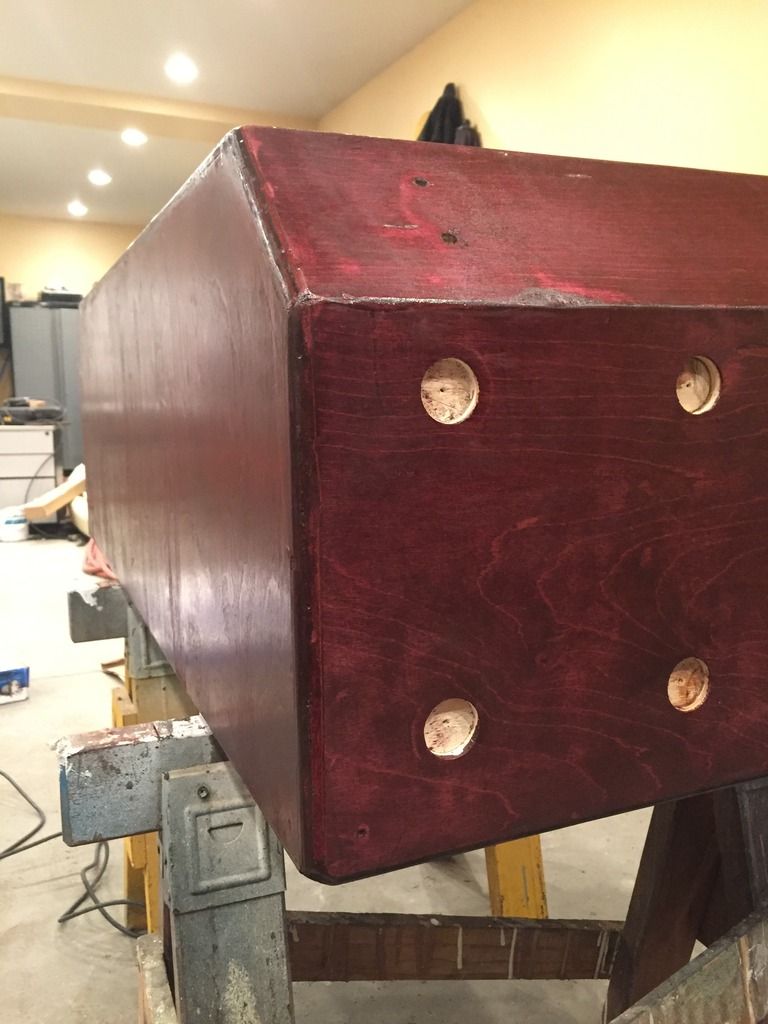 The second coat I tried to brush it on much thinner but for whatever reason it gave me a hard time. Once again the finish was inconsistent and too thin in many areas and I thought I would have to sand it all back down. If you want a furniture grade finish then I would have started back at square one and sanded to bare wood and stained all over again. I didn't do this, I was able to get the second coat sanded pretty even and I decided to go a bit higher with the grit, starting with 240 and then up to 320. After the third coat went on I was very happy with how it turned out.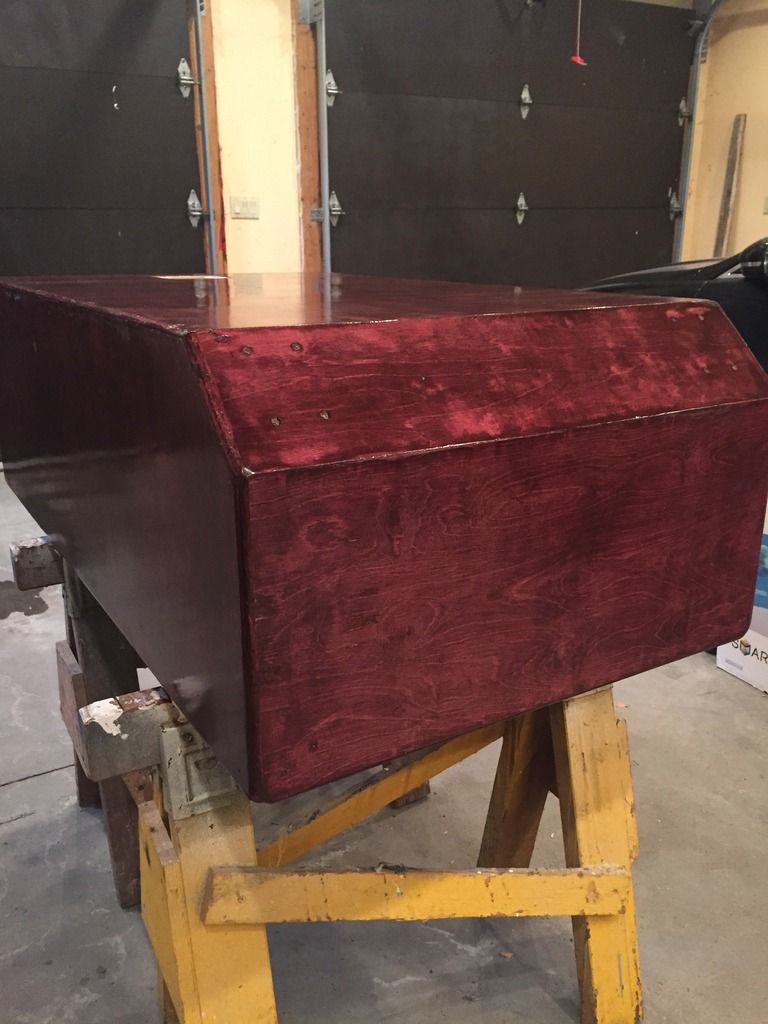 Starting to dry
I still have to reassemble everything so i'll post pictures when im done.
Feel free to ask me any questions on things I may not have covered.
PS. my garage is a disaster.