Discussion Starter
·
#1
·
Well I just got back from Vacation the other day, I was in the Toronto area for a bit and got to visit the MIAC show while I was there. For those that don't know thats the Canadian version of NAMM, much smaller version.
It was pretty cool, got to see lots of great guitars, there were a few interesting lines that caught my eye.
I checked out the Vintage guitars that some of you have been talking about, I'm considering giving them a try but I'm not sure I was totally impressed by them. Met Trevor Wilkinson at the Vintage booth though, seemed like a good dude.
I also met Greg Godovitz of Goddo, he was a cool dude too and was helping sell a line of guitars called Wicked. Another import brand with a few nice features that didn't seem too bad.
Sparrow guitars look promising, cool hot rod looks in a few of the popular copy styles. Imported guitars finished and hot rodded in Canada, nice features.
The Dean booth had a few celbs come by. Michael Angelo Batio was shredding it up with a few cool tunes, he also showed off his signature double neck playing. Talked to him a bit and got an autograph and picture with him. Heres a shot of him doing his thing.
They also had Rudolph Schenker stop by to sign autographs which was very cool since I'm a Scorpions fan from way back.
I just love the new Dean Schenker V....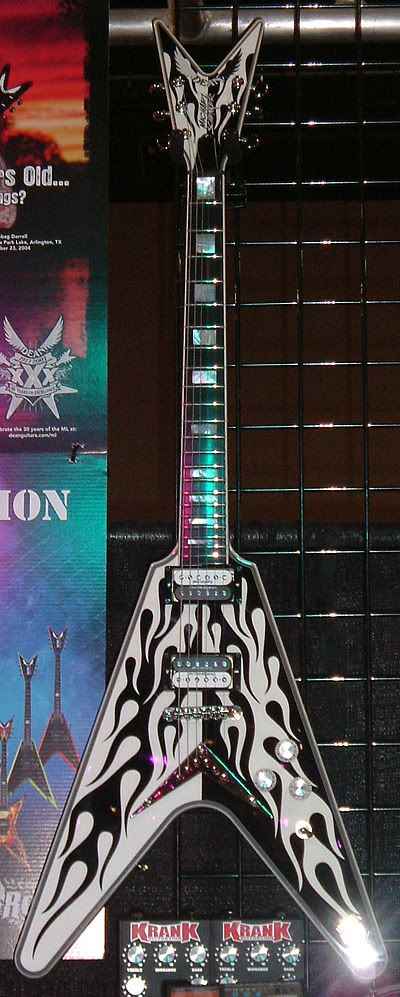 All in all it was a great trip. I also got to meet up with my supplier and couldn't leave empty handed after he showed me a few interesting pieces. I would have taken a few more but didn't have enough space...or money..
You can check those out in my latest post in the dealers section or on my site.